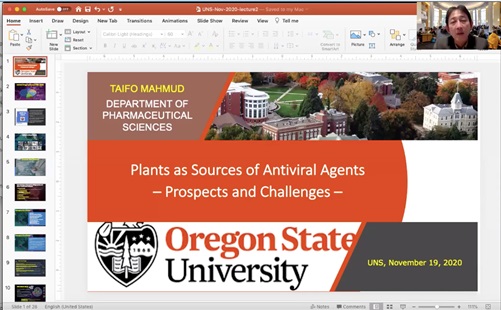 Agrotechnology Study Program, Faculty of Agriculture, Universitas Sebelas Maret (UNS) held a guest lecture to achieve a world-class university. Guest lecture with the topic of General Introduction of Natural Products Chemistry on Tuesday, 18th and 19th November 2020, at 08.00 am, with the Virtual ZOOM. The Keynote speaker for the medicinal plants guest lecture is Prof. Taifo Mahmud, a lecturer at Oregon State University (OSU), USA. He is a researcher in the field of natural product-based drug discovery and development. His group employs a multidisciplinary approach that utilizes cutting-edge technologies to produce novel pharmaceuticals. Some recent accomplishments of his group include discovering new families of enzymes and developing antimalarials, anti-cancers, and sunscreens through genetic engineering or synthetic biology.
The guest lecture began with remarks from the Vice-Rector, Prof. Dr. Ir. Ahmad Yunus, M.S. The guest lecture was guided by moderator Andriyana Setywati, S.P., M.P., Ph.D. Also, it was present the Head of the UNS Agrotechnology Study Program, Dr. Ir. Parjanto, M.P as well as lecturers and students of the UNS Agrotechnology Study Program. On November 18th, 2020, Prof. Taifo Mahmud delivered material on Plant as a Source of Medicine. Some of the plants that were initially discovered as medicine, starting from the cinchona tree, containing Quinine as an anti-malarial drug, artemisinin compounds from Artemisia annua as antimalarial, and fever, and the discovery of antiparasitic namely Avermectin produced by Streptomyces avermitillis.
On November 19th, 2020, Prof. Taifo Mahmud delivered material on Virus and antiviral drugs. Several viruses usually attack humans such as the Common cold (Rhinoviruses), Influenza (Influenza viruses), and Herpes Simplex (HSV-1 and 2). Moreover, Several plants that can be used for anti-virus are turmeric which contains curcumin as an anti-influenza virus, and hesperidin from citrus fruit. This guest lecture was enthusiastically responded to by the guest lecture participants who were marked by many questions related to the effectiveness of several plants against diseases and several compounds related to viruses, especially SAR CoV2.